Manufactured by Bonus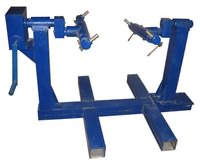 The bench is designed for assembling and disassembling the KAMAZ and YaMZ engines. The bench consists of a welded frame, two supports, one of which is fixed in two positions. The first position — sliding support set to the maximum size for the YaMZ engine (MAZ, KRAZ), the second position — for the KAMAZ engine. A worm gear unit with a driving beam is mounted on the fixed support and a driven beam — on the other support. The crossbeams have pins which are inserted into the holes of the motor unit being serviced.
To repair the motor, the sliding support is set in the required position and secured. The motor is lowered into the pickups, secured by four screws that are screwed against stop into the holes in the motor unit. The engine is turned to the required position by means of the handle.