Manufactured by Bonus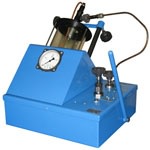 The M-107, M-107E benches are designed for testing and adjusting injectors of car-and-tractor diesel engines on mobile diagnostic units and allow to check the following parameters:
M-107 checks the injection start pressure;
The fuel atomization quality;
The clamping cone tightness;
Atomizer density on

the clamping cone and the cylindrical p

art (pressure drop time).
Measurements with the M-107 bench are performed using a pointer pressure gauge, with the M-107E bench — using a high-precision pressure sensor and are displayed on the electronic unit display. The same thing happens at the HPFP repair bench.
The bench consists of a casing and cover. The following elements are located on the top of the cover: casing; handle of the system pressure relief valve; handle for disconnecting the main line of the pressure gauge and the accumulator; outlet pressure fitting; fuel level dipstick; air bleed screw. The following elements are located on the bottom of the cover: fuel tank; plunger pump; accumulator. The fuel tank has a drain plug in the bottom. See also various equipment for tire fitting presented by our manufacturing company — Bonus.