Manufactured by Bonus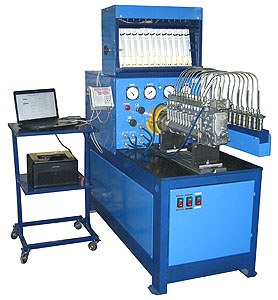 SDM-12-03-15 Full Complect EURO is a unique computer bench that allows to diagnose almost all types of diesel fuel injection equipment (foreign and domestic manufacture):
HPFP with mechanical and electronic regulator;
HPFP and Common Rail system injectors;
unit-injectors (with special bench re-equipment).
Our organization, Bonus LLC, is engaged in production of SDM benches for repair, diagnostics and adjustment of diesel fuel equipment, high pressure fuel pumps (HPFP), as well as Common Rail injectors.
Multi-purpose benches, which use asynchronous electric motor with "Mitsubishi" frequency converter, allowing to make diagnostics and adjustment of all brands of high-pressure fuel pumps (HPFP) of diesel engines of domestic and foreign manufacture.
An electric drive with a Mitsubishi frequency converter enables the output shaft speed of the bench to be smoothly adjusted. Keeps the rotation speed stable with minimum deviations, meeting ISO standards, compact and easy to operate.
Diagnostics is made by reproducing the rotation speed of the drive shaft of a high-pressure fuel pump (HPFP), fuel temperature and pressure, measurement of specified parameters, as well as cycle feed, fuel consumption of the test facility, the fuel charging (injection) timing angles, turn of the injection timing device, deviations of the injection timing angles.
The following operations can be performed on the benches:
testing and adjustment of in-line HPFPs with independent lubrication system, with the number of sections up to twelve, as well as distribution type HPFPs with the number of supply fittings up to twelve by controlling the following parameters and characteristics:
amount and uniformity of fuel supply by sections (capacity of pump sections);
the HPFP shaft rotation speed when the regulator starts operating;
the opening pressure of

the injection valves;

the angle of

fuel injection and supply by

the turn of

the HPFP shaft and alternation of

supply by

HPFP sections;

the actual injector spray angle (when diagnosing);
characteristic of

the timing coupling.
These benches allow you to serve the HPFPs manufactured by: YaZTA, YaZDA, NZTA, RAAZ, ChZTA, AZTN. By special order, the bench is completed with tooling for diagnostics and adjustment of foreign-manufactured HPFP.
The stands are equipped with an electronic control system.
Bench SDM-12-03-15 Full-Complect EURO has 12 sections, a 15 kW drive, and is completed with:
an electronic control system;
a

high- and low-pressure fuel supply system;

a

temperature stabilization system;

an

integrated lubrication station;

a

built-in charging system simulator;

12

and 24

V

DC power supply;

a

computer system for controlling HPFP benches with a

database for Common Rail injectors and fuel pumps

— SDM-KS

electronic Euro-3 control system (BNS);
a

set of

brackets for imported HPFPs M-105

a

modular software package that includes information on

spare parts and automotive equipment, as

well as

HPFP adjustment data

diesel test gauge for HPFPs of

cars and trucks

standard

CR kit;

CR

loading set.
The CR loading set includes: Pressure accumulator and a complete tooling set for installing pumps and injectors of trucks on the bench; Adapters for MAN, CUMMINS, IVECO, FORD CARGO, CASE, RENAULT trucks injectors.
The standard CR kit includes: Common Rail Controller for 6 channels; Cables for BOSCH, DENSO, DELFI injectors; Cables for controling the pump, pressure valve, pressure gauge; Pressure accumulator and a complete tooling set for installing pumps and injectors on the bench.